Thanks customer to give us good feedback and imagine. We not only provide aluminum extrusion but also consultant, design and assemble aluminum exrtrusion acording to your requirments. We will show you the basic mistakes and advantages in the process of assembling products with aluminum extrusion.
1. Industrial machine frame.
The industrial aluminum extrusion frame is constructed of 40×40 profiles. To connect aluminum extrusion bars together, we usually use standard connectors that match the size of the aluminum extrusion. This not only enhances the aesthetics of the product, but also makes it easy to disassemble and reuse aluminum after disassembly.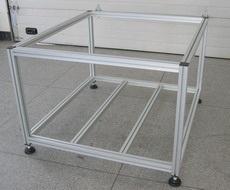 In addition to the use of metal pipe connectors, some customers often use welding. However, this will be aesthetically pleasing and unable to reuse aluminum bars after they have been used.
The leveling feet which customers use are M8. You can also use Taro  M10 hole if the M8 look too small compared to the spindle.
The Workbench with wheels
Similar to the chassis, but this time the working table frame has wheels and panels mounted on the sides and has a shelf. The side panels fit into the slots of the aluminum extrusion, and externally mounted by plastic strips to help reduce vibration when traveling. In addition, the use of non-drilled connectors helps the table increase aesthetics, easy to disassemble.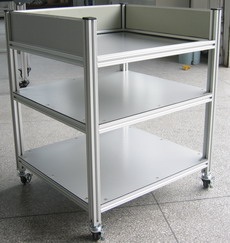 Table tops and shelves are made from dense hardwood. Curiously, the top plate is also housed in the aluminum frame slot, creating a bezel. Usually the top plate will be placed on an aluminum frame.
3. Sports car racing machine frame
An engineer sent us a simulation of his racing car after consulting with Anttek on how to assemble it.
It is not a common application but it does say that aluminum extrusion are used in a variety of ways. The customer has used the correct corner bracket, because in products like these we need flexibility in the process of using and improving. The strong point here is that if you want to fix the frame during use, just remove the corner platform, everything can be completely changed.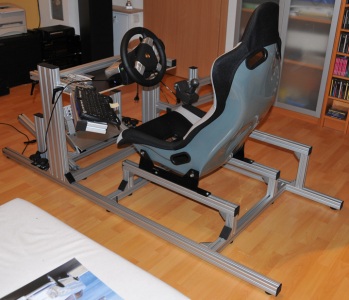 ​​​​​​​4. Aluminum extrusion frame conveyor
Normally, when making a chassis, it is necessary to incorporate other machines into the frame. You can see that this aluminum frame has been intelligently combined by the customer as a conveyor, because with the use of some standard corner platforms and nuts, the conveyor is fitted, and willing to use.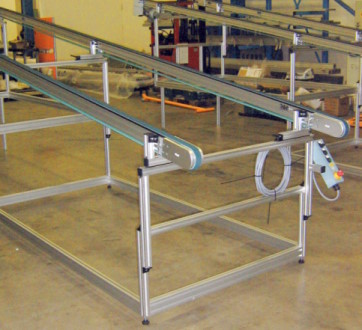 You can see that this frame is using essentially aluminum profiles such as 40×40 and 40×80.
Therefore, using flexibly and solidly, when installing, we need to use right angle platforms, sliders and other profiled aluminum components to ensure the aluminum frame is closely connected and technically secure.
We offer a wide range of hardware and fasteners to meet your specific need.  Contact us online or call our experienced saled staff will be happy to assist you.
Hotline: 0988 688 336