Anttek Vietnam executes project of workstation with lights for factory. This project requirement of 300 sets of workbenches  as customer requests:
-The table must ensure enough bright for the workers to operate.
-Table must have a solid structure for a long time.
– The height of table is suitable with the height of workers.
– Delivery on time (before 10/4) and quality.
– The goods are censored in 3 days. They  will be received if thay are enough quality.
With many other terms in the contract.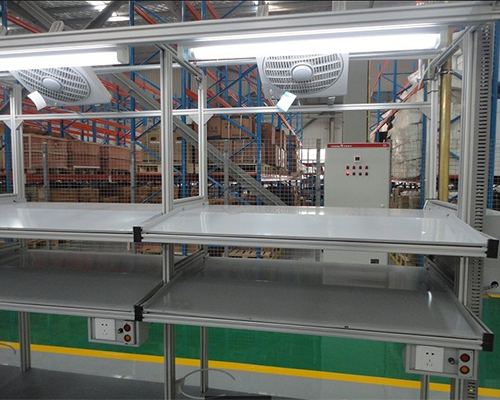 1. Designing, making  idea  and manufacturing process.
These designs rely on the working light intensity to calculate the brightness of the light bulb. These designs are based on workplace light intensity to calculate the brightness of the light bulb, the average height of the workers to calculate the appropriate desk height.
Choose aluminum extrusion material to ensure the durability and solidity of the table.
It took us 35 days to produce 300 tables from the preparation of raw materials, to the processing stage aim at  meet the schedule, maintain customer trust.
2. Characteristics of the workbenches with lights of Anttek.
– The table is designed with a lamp with a specification of 75w and a length of 0.6m: This bulb is perfectly suited to the current working environment of the factory and to a normal healthy worker.
– Workbenches with lights built from aluminum extrusion frame: This material is suitable for durability, anti-rust and oxidation
– Aluminum extrusion are assembled based on aluminum extrusion accessories that do not need a weld
= >> See more: Models of Anttek's desk: Here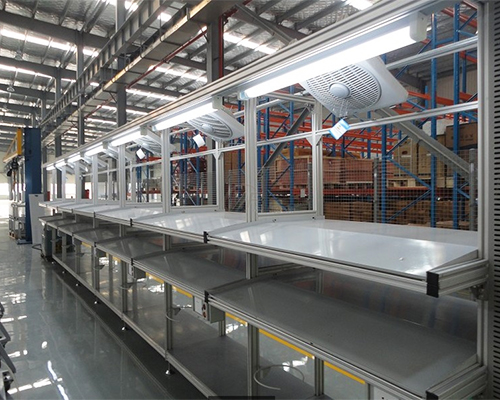 3. The advantages of working table with lights
The table has a suitable brightness, ensuring the operating brightness
The table is resistant to rust and oxidation
The table can change the height easily.
Aluminum extrusion frame is shiny and ensures high aesthetic in industry.
Anttek Vietnam Equipment JSC is specializing in processing and manufacturing workbenches  according to industry requirements and standards, tt order and get the  quotation please contacts:
Hotline: 0968 116 229 – 036 668 2628